I adore the Eurovision Song Contest. For my fellow United States folk, Eurovision is a gigantic musical extravaganza held each year in Europe, in which each participating country sends one song to compete, and everybody votes to pick the best song. It's been going on since 1954, and you've probably heard of some of the past winners (ABBA, for one).
It's that time of year again, so to help channel my budding excitement, I'm sharing my top 26 Eurovision songs from 2008 to 2018. (This list will undoubtedly get updated after the 2019 contest wraps up). Why such a weird number? I couldn't bear to leave #26 off the list.
Some of the links will point to the live performances, while some point to music videos, depending on which version I liked better.
26. Hold Me – Azerbaijan – Farid Mammadov (2013)
This has some of the most creative staging I've ever seen in the contest. Look at that guy dancing upside-down! Plus the song and the singer's voice are both beautiful.
25. Historyja majho žyccia – Belarus – Naviband (2017)
These two singers are adorable, their voices match beautifully, and the entire song is a giant dose of happiness.
24. Monsters – Finland – Saara Aalto (2018)
This song has great atmosphere, a strong voice, and it's super catchy. I also love the message of the song, to the point where I realized it's pretty much the theme song of the second Arcane Artisans novel.
23. Rhythm Inside – Belgium – Loïc Nottet (2015)
What a unique song! From the voices to the music to the staging, this is a cohesive, unusual, and catchy performance.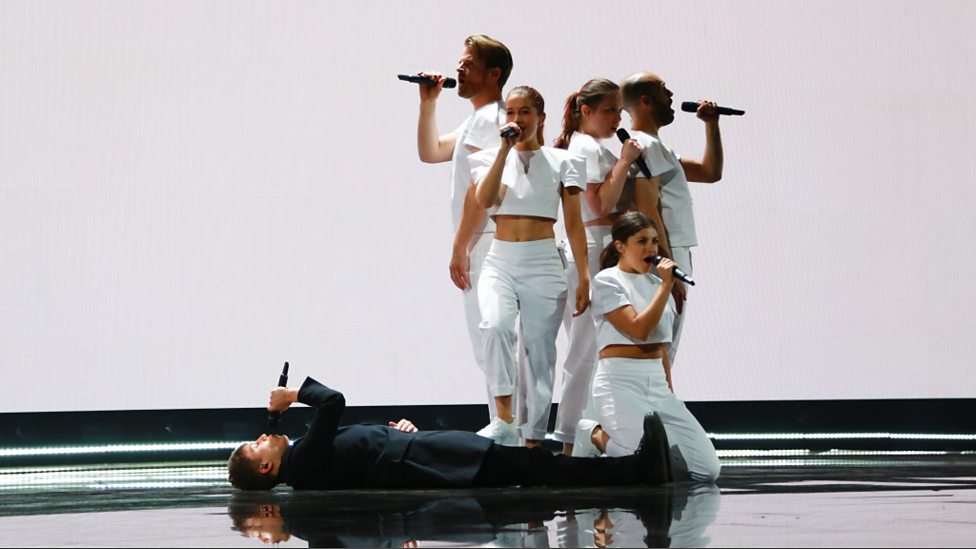 22. Na Inat – Bulgaria – Poli Genova (2011)
Awesome rock song, great voice, fabulous stage presence. I love the piano instrumentals. I wasn't even watching the contest this year, and I'm still mad this didn't qualify.
21. Playing With Fire – Romania – Paula Seling and Ovi (2010)
Tell me you aren't humming this after hearing it, and I'll call you a liar. Their voices are both so strong and blend perfectly, the weird-looking piano is a cool staging element, and the whole song has a powerful impact.
20. Tick Tock – Ukraine – Mariya Yaremchuk (2014)
Why is that guy running in a giant hamster wheel? Who cares, the song is super catchy.
19. Alcohol is Free – Greece – Koza Mostra feat. Agathon Iakovidis (2013)
From the deadpan look of the main singer, to the dancing, to the absolutely insane feel of the chorus, I love everything about this.
18. Jan Jan – Armenia – Inga and Anush (2009)
The staging on this is phenomenal. I love the dancers, the costumes, the singers' voices, and the Armenian elements in the song.
17. Fairytale – Norway – Alexander Rybak (2009)
The dancers, violin music, and instrumentation are all great, but one thing sets this song apart. Alexander Rybak has phenomenal stage presence. He's just so charming and likeable that you can't help but love this song. This won the 2009 contest, and it's easy to see why.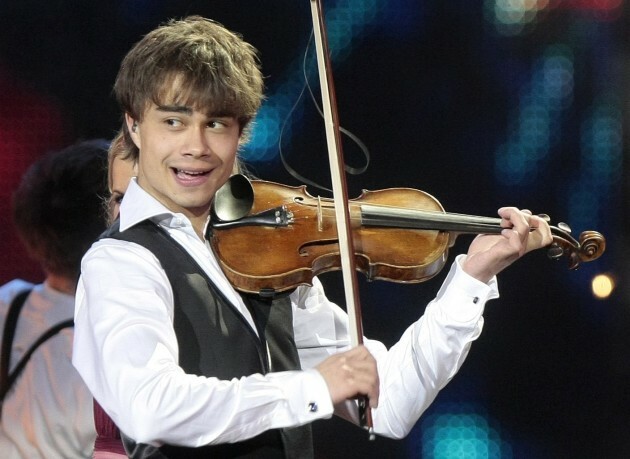 16. Undo – Sweden – Sanna Neilsen (2014)
I don't care that there's a power ballad like this in Eurovision every year, LISTEN to this woman's voice! She could lift weights with those high notes, my goodness. I also love the dark atmosphere of the song, the way it starts so quiet and builds to this ridiculously intense finish, the minimalist staging … I could go on.
15. Running – Hungary – András Kállay-Saunders (2014)
You actually need to watch both the music video and live performance for this one. Its intense, driving beat, the singer's emotional voice, and the theme of the song all combine into a very moving experience. It still makes me cry years later.
14. Same Heart – Israel – Mei Finegold (2014)
From the singer's unique voice to the martial arts-based dancing, I really enjoy the aggressive intensity of this song.
13. Taken By a Stranger – Germany – Lena (2011)
Admittedly, the dancers' costumes are weird. But taken as a whole, this song is a spooky, otherworldly experience, and I love the way it just takes over the entire atmosphere of the room.
12. Et Cetera – Ireland – Sinéad Mulvey and black Daisy (2009)
Okay, this is not an objectively earth-shattering song. But the first time I heard it, I fell in love. It feels like the rock music I listened to as a kid in the nineties, and I can't get enough of it.
11. Only Teardrops – Denmark – Emmelie de Forest (2013)
Listen to that flute! The music, the drums, the singing, and the orange lighting make me feel like I'm watching a beautiful sunset in a magical realm. It really creates a full experience.
10. Alter Ego – Cyprus – Minus One (2016)
YEAH rock song! I also love the werewolf imagery. There's not a lot to say about this. It's just super catchy.
9. När jag blundar – Finland – Pernilla Karlsson (2012)
Her voice is so sweet, the language is beautiful, and I have a soft spot for cellos, so this gentle ballad hit all the right notes with me.
8. Time – Belarus – Uzari & Maimuna (2015)
Those violins! *dies* I always adore songs with driving drumbeats and a strong violin presence, and, well, here it is. I also like the singer's fantasy cloak and the whole hourglass staging, and the mind-trip plot twist at the end of the video.
7. Blackbird – Finland – Norma John (2017)
It is an utter travesty that this song didn't qualify for the grand final. It's so haunting, the singer's voice is stunning, and the simple piano music creates a really somber atmosphere. I get chills listening to it.
6. Higher Ground – Denmark – Rasmussen (2018)
I can't get enough of this song. The story that inspired it, the staging, the beautiful harmonies, the instrumentation … it all works so well. My two-year-old fell in love with this song, so we listen to it a lot in our house.
5. Bones – Bulgaria – Equinox (2018)
For some reason I can't find a good clip of this song's live performance. Just know that it was super intense and dramatic, and went perfectly with the dark, driving feel of the song. This is my favorite genre of music, so this worked really well for me.
4. Heroes – Sweden – Måns Zelmerlöw (2015)
Another innovation in staging, coupled with a super engaging stage presence and a catchy song, combine to make this an obvious winner. There was no shock at all when this took home the trophy in 2015.
3. You Are the Only One – Russia – Sergey Lazarev (2016)
Yet again I can't find a good video of the live show, but in this case the music video is awesome, too. Sergey is an engaging performer, his voice is great, and the song has that magical combo of heavy drums and violins that makes me listen again and again.
2. Not Alone – Armenia – Aram Mp3 (2014)
THOSE VIOLINS AT THE END. I love how this starts off so soft and gentle, and then gradually builds to an intense peak. And THOSE VIOLINS. I need those violins in every song.
1. Never Forget – Iceland – Greta Salóme and Jónsi (2012)
2012 was the first year someone introduced me to Eurovision. "Never Forget" is the song that brought me back. From the music, to the performance, to the haunting style of the song and the tragic love story behind it, everything about this works. I watch Eurovision because it gives me songs like this one, and I hope for many more to come.