From light-up costumes to stiltwalkers, from fire dancers to trapeze artists, the Eurovision Song Contest boasts a proud history of expensive, fantastical, and eye-grabbing stage shows. Here are my top ten unique and imaginative performances from recent years.
Tolmachevy Sisters
Russia 2014
These twin singers balanced on a see-saw while performing their song "Shine" in 2014. It's an impressive balancing act, and a very cool staging decision.
Freaky Fortune feat. RiskyKidd
Greece 2014
For a song called "Rise Up," trampolines make perfect sense. It's impressive how these guys bounce around while singing, and the trampoline acrobat does awesome stunts.
Kate Miller-Heidke
Australia 2019
This year's entry is a bit premature, since the live show hasn't happened yet. But based on this music video of their national final performance, I think we're in for something truly unique. I don't even know the name for what the background dancer is doing (spring-loaded platform wobbling?) but it's fascinating to watch.
Dima Bilan
Russia 2008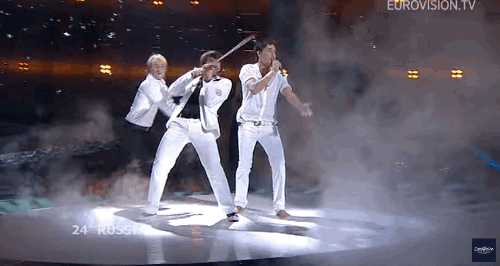 I'm not entirely sure how they put an entire little ice rink on the stage, but in 2008 Russia featured an actual figure skater in their show. The uniqueness of this idea won over the audience, because they took home the trophy that year.
Robin Bengtsson
Sweden 2017
Starting backstage with a long tracking shot, this song leads into a memorable dance routine on treadmills, making this performance one of the most visually interesting in recent years.
Can Bonomo
Turkey 2012
Some songs have unique costumes. Some songs have unique set pieces. In 2012, Turkey combined them into one, and the results are awesome. Check out that boat made out of costume pieces! Brilliant!
DoReDos
Moldova 2018
Last year, this stage show bumped Moldova from almost last in my rankings to the top ten. This door-opening routine is unique, impressive, and full of fun surprises.
Mika Newton
Ukraine 2011
The sand artist in the background creates gorgeous scenes on a projection screen, telling a visual story to accompany the song. The speed and precision of her work is beautiful to behold.
Farid Mammadov
Azerbaijan 2013
I've mentioned this song before, but it deserves a place on this list as well. The dancer in the glass box shadows the singer's movements, acting as his ethereal, caged emotional side. Maybe I'm reading too much into the symbolism and this is just a cool visual effect, but either way, I've never seen anything like it before.
Måns Zelmerlöw
Sweden 2015
In 2015, Måns Zelmerlöw revolutionized Eurovision staging by interacting with a projection screen during his performance. Now, everybody does this all the time. It's an engaging and wildly creative performance, and it gets my top spot on this list.
What are your favorite creative stage shows from Eurovision (or any musical performance)? I'd love to watch them, so share in the comments!